Transforming national highway 4 Kello-Räinänperä into a motorway – safer and smoother mobility for road users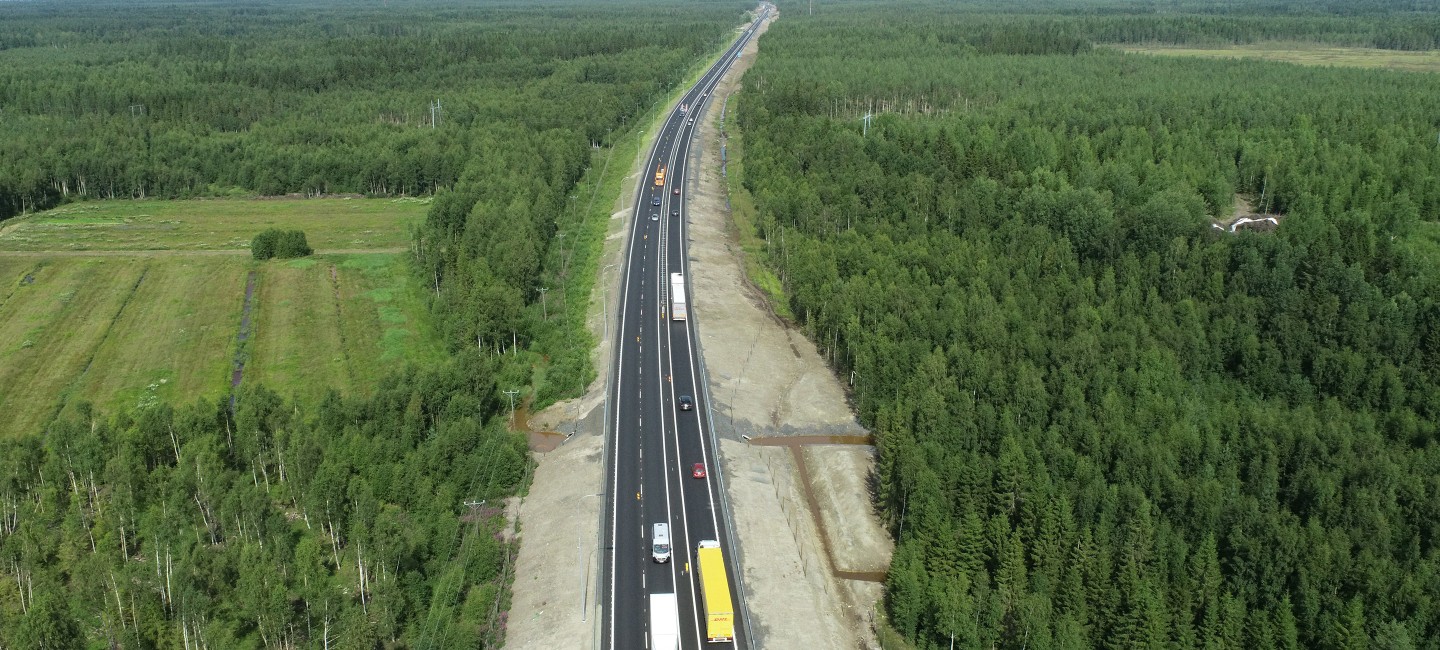 In the Kello-Räinänperä project, we performed a renewal project in which national highway 4 was converted into a motorway between the Kello grade-separated junction and Kiiminkijoki river. The project also included the conversion of the Kiiminkijoki-Räinänperä route to a dual carriageway.
With the new motorway, commuting and traffic to Oulu and North Ostrobothnia is smoother than before, with more consistent travel times. The improved accessibility adds to the attractiveness of the area as a residential area and works to maintain and improve the availability of labour for the businesses in the area.
We executed the Kello-Räinänperä project as a Design and Build (design-build-develop) contract. Before the actual construction planning and construction phase, we developed implementation solutions together with the customer, paying attention to the road plan's flexibility as well as the product requirements and the life cycle of the structures.
We implemented the project's construction plan in its entirety. Among other things, we planned motorways, grade-separated junctions noise barriers and private roads. In addition, we planned the contract's two new concrete frame bridges, one widened bridge, two new pipe bridges and one extended pipe bridge.
In the design phase of the project, we made use of data modelling in the construction phase[KM4] , such as in machine operation and quality control. Basing the work on data modelling sped up the work phases between planning and implementation and reduced the potential for errors.
During the project, which covered an approximately 18-kilometre-long route, our work comprised 500,000 m³ of cutting, 10 new or widened bridges, approximately 3 kilometres of new noise barriers, approximately 18 kilometres of renewed game fences and approximately 16 kilometres of railings.
The Kello-Räinänperä project is part of the Finnish Transport Infrastructure Agency's development project for the Oulu-Kemi route, whereby the functionality of one of the busiest national highways is being developed. The project is aimed at tackling problems related especially to traffic jams, noise and accident-prone sections. The route is part of the Bothnian Arc connecting the coastal regions of Finland and Sweden and therefore an important route for business, travelling and mining transport. National highway 4 is also part of the Europe-wide traffic network TEN-T's core network aimed at a safe and sustainable European traffic system.
We also devised the road plan for the project