Kaisantunneli, a challenging project, is a masterpiece of infrastructure expertise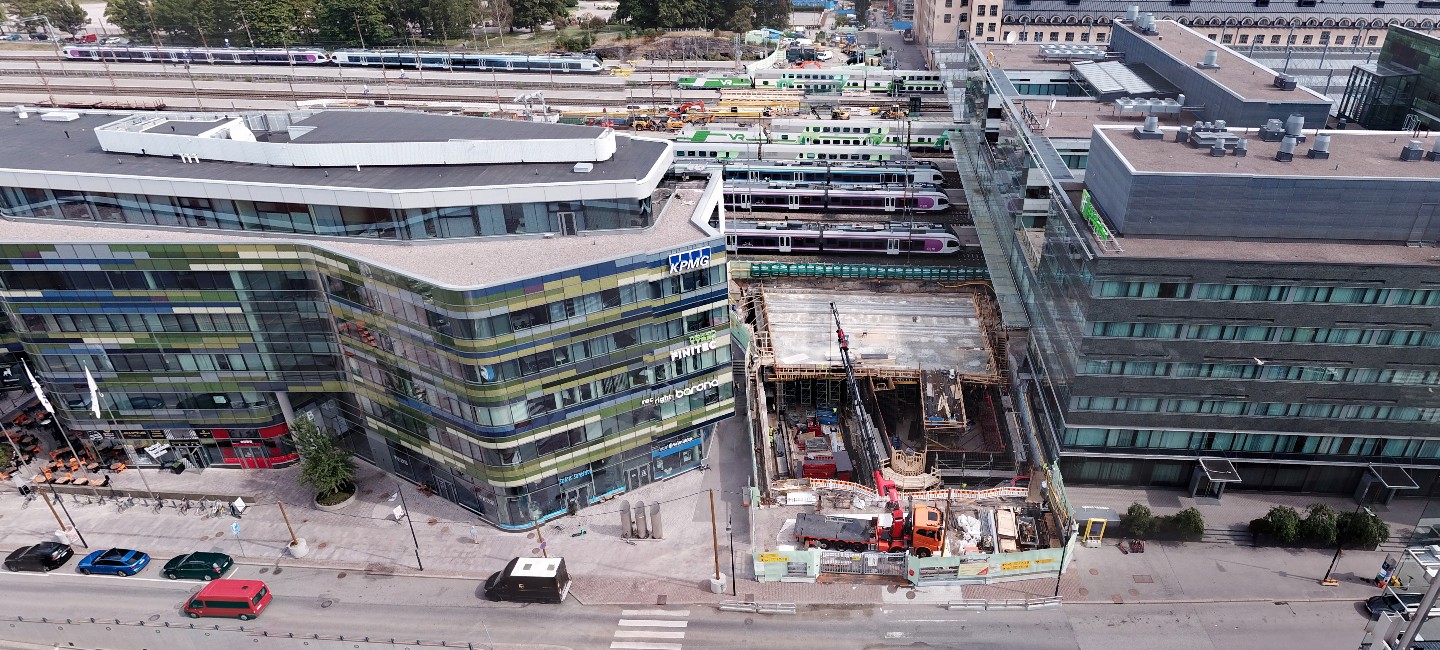 Kaisantunneli is a tunnel for pedestrians and cyclists that will run under the Helsinki central railway station's rail yard. The new tunnel connection between Kaisaniemenpuisto park and Kansalaistori square will be located underneath all the platforms and tracks of the station, making it easier for people to navigate between the east and west sides of the city centre. We will also build bicycle parking for over one thousand bikes and an access to the currently existing pedestrian tunnel.
The contract's design and implementation phases are extensive and involve foundation engineering, rock excavation, concrete construction and railway construction. The work is being carried out in a demanding urban environment in the immediate vicinity of the Helsinki central railway station. Our diverse expertise, experience and own equipment provide a good basis for carrying out this demanding project.
During the rock excavation phase, completed in early 2021, the construction site was surrounded by train traffic on three sides. Nevertheless, we managed to keep the disturbance caused to the passengers minimal. The pathways for passengers were closed only for a few minutes due to blasting work at a time.
During the project, we will also make changes to the tracks used in train traffic. During the works the railway tracks must be reserved for the construction project well in advance and the agreed deadlines must be met.
We will carry out the concrete works of Kaisantunneli in 14 sections. The mould casting of large slabs require experience in work and logistics planning from our concrete builders. The varying types of soil and the hundreds of years old structures discovered underground make the construction of sheet pile walls difficult. The development phase of the contract, the joint meeting policy agreed during the contract and the utilisation of a data model are excellent examples of our seamless work planning and progress monitoring.
Every day, we ensure the operability of train traffic and the safety of about 200,000 people accessing the central railway station. We aim to keep the traffic arrangements during the work the same for as long as possible to minimise the inconvenience caused to the passengers. Our up-to-date project communications support the normal continuation of our various stakeholders' activities.