Finnish construction sector can learn a lot from the Birmingham tramline alliance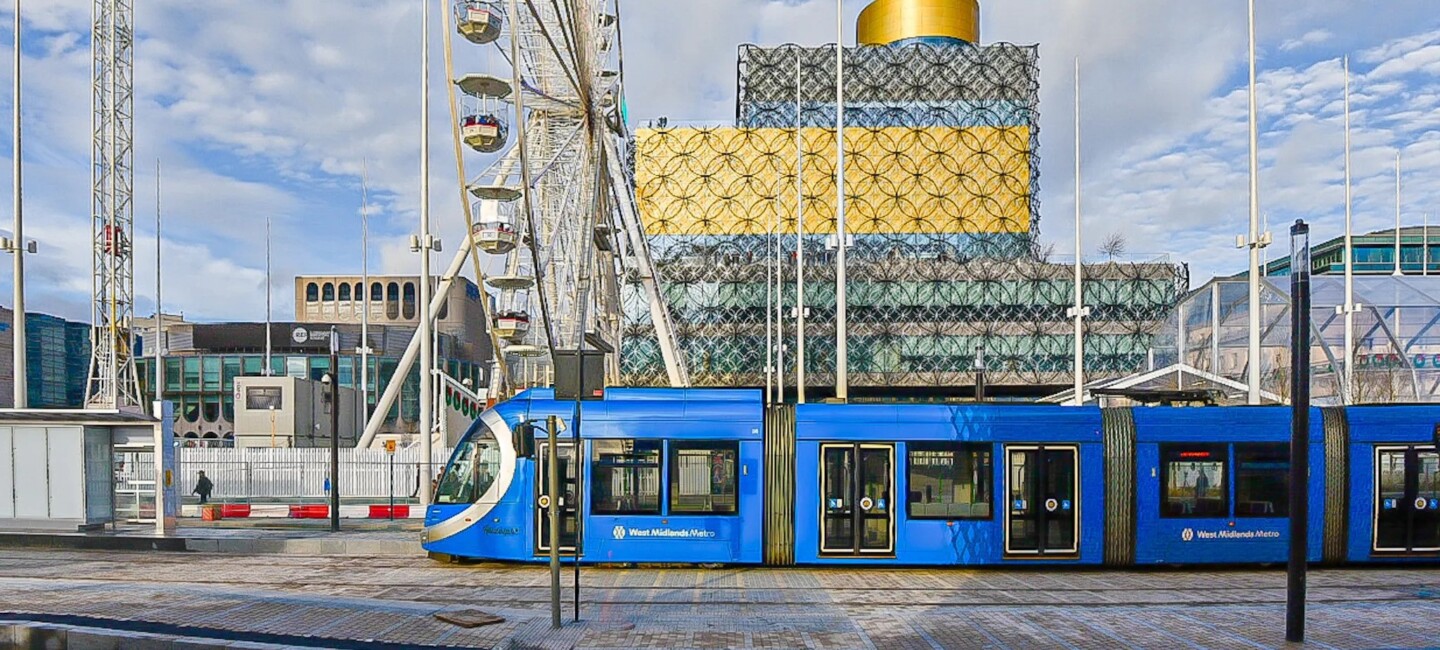 In Birmingham, the UK, a 34-kilometre tramline extension is under construction in an area where millions of people commute and travel daily. However, the Birmingham project is not the only one of its kind: dozens of tramlines have been built and expanded in major European cities during the 2000s. In recent years, Finland has also jumped on the bandwagon and modern tramlines are currently being planned in several cities.
The Birmingham tramline project is being carried out by the Midland Metro Alliance, with Colas Rail as the main contractor. The project, which takes place in the second largest metropolitan area in Europe, has required special attention be paid to the people in the area during the construction phase, as well as new innovations that can be useful elsewhere.
"In Birmingham, we have explored alternative ways of working and, for example, utilized AI for utilities identification in soil scanning. This has helped us save time, improve safety and the quality of our work, as well as our accountability and profitability. Innovation has played a key role in finding the best solutions for all parties involved in the project, and this is definitely something that should be applied to other projects in similar environments," says Alliance Project Director Maria Ion, Colas Rail.
New innovations offer learning opportunities also in Finland
In Birmingham, millions of people live, travel and work in the immediate vicinity of the tramline. The area is also rich in history and culture. The Alliance has enabled the development of alternative solutions where they were seen to have the potential to achieve the best possible outcome for the project. Along some parts of the route, for example, the tram will run entirely on battery power, eliminating the need for wires and permanent changes to the landscape, with the familiar landmarks visible along the new tramline without distractions.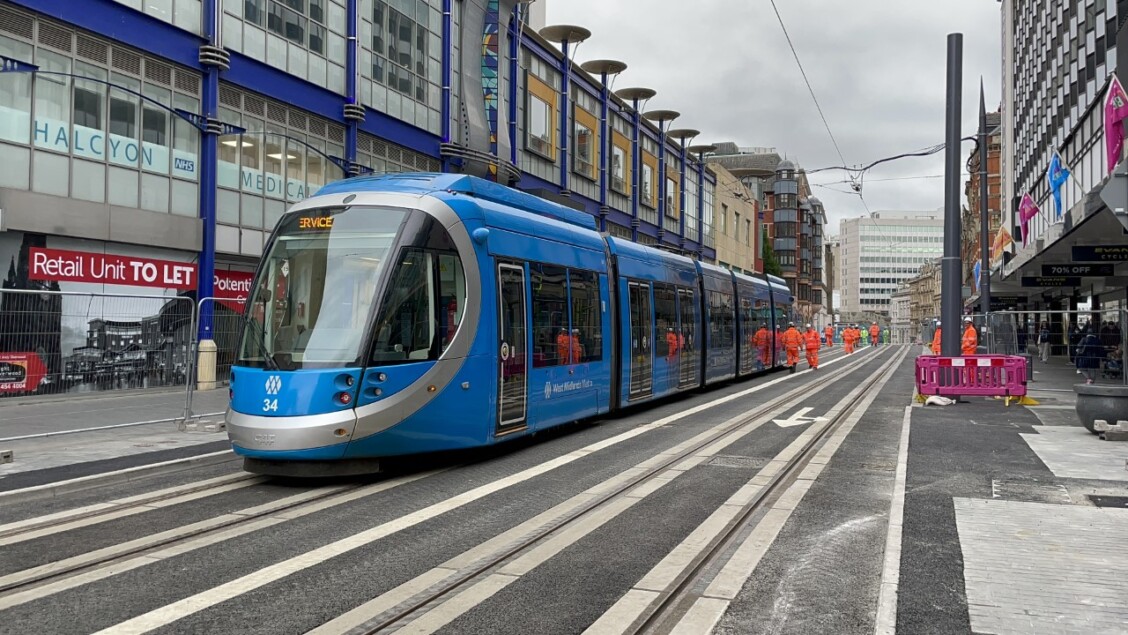 Finnish cities also have many urban landscapes important to the people living in and visiting the areas. The proliferation of tram projects in the coming years will provide an opportunity to look at things from a new perspective and learn from the solutions already made.
"Once you see and experience the Birmingham tramline for yourself, it's easy to understand the benefits. The battery-powered tram is well-suited for scenic spots or locations that are challenging in terms of electrical safety. Battery technology is developing rapidly and it is likely that the weight or price of batteries will not be as significant an issue in the future as it is today," says Jere Keskinen, Director of Urban Construction at Destia.
Drawing on a wide range of expertise is essential for tramline projects
Although the size of cities in Finland in not comparable to the largest metropolitan areas in Europe, here too tramline projects are located in urban environments with many moving parts and little space. Large tramline projects often require extensive expertise across individual contract phases, which is why "alliance" is now a familiar term in Finnish tramline construction, too.
"Building in urban environment is often complex and involves different types of development opportunities, making it necessary to combine a wide range of skills. An alliance as a contracting model creates a fertile platform for development and innovation, as the responsibility for success and failure is shared by all parties involved in the project," Keskinen says.
Alliance has also proven to be an effective contracting method for Destia's "from Kalasatama to Pasila" project, which will expand the Helsinki tramline network by 4.5 kilometres by autumn 2024.
"In Kalasatama, we have done groundbreaking work in areas such as takt-time production and day-to-day management in Finnish infrastructure construction. The move away from reporting, and replacing it with an up-to-date snapshot system has also been a successful consequence of the high level of passion and excellence throughout the organisation," Keskinen says.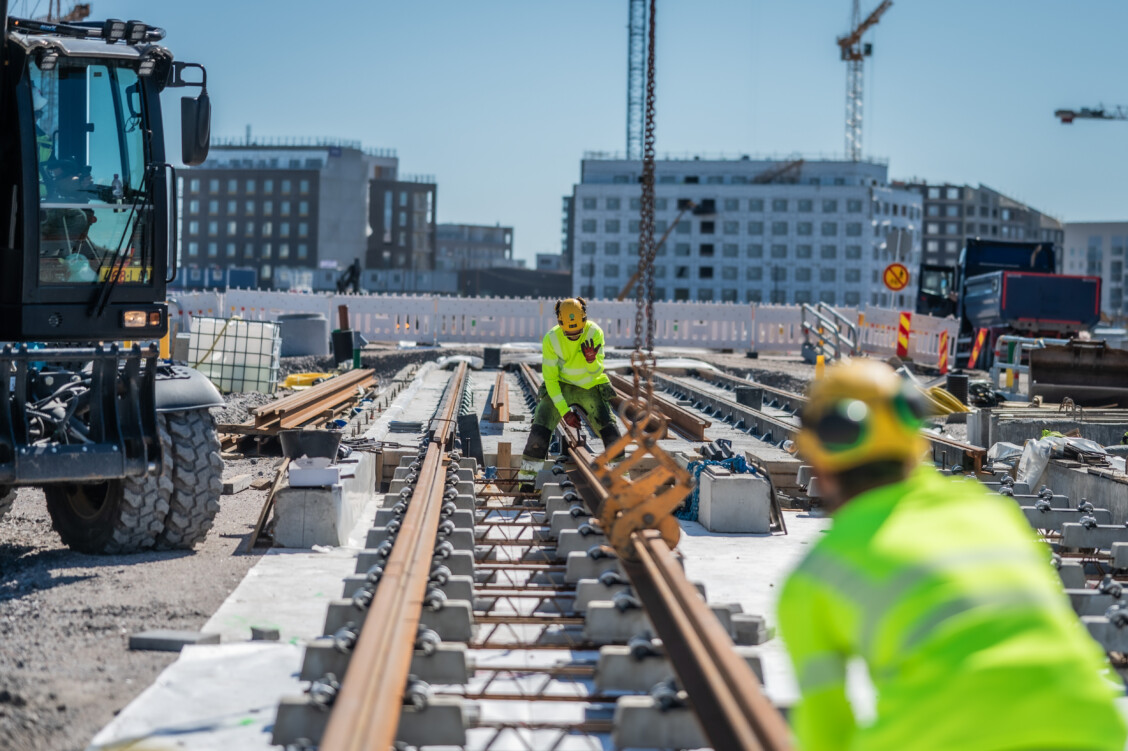 There is a strong will to develop the industry
In recent years, both in Finland and elsewhere in Europe, we have seen the positive effects of tramlines from the construction phase onwards: the attractiveness of the area increases, cities are able to invest in their sustainability objectives, property values rise and confidence in the future development of the area increases. In Tampere, for example, almost half of the residential construction that was assumed to take place by 2040 had been built by 2021 along the route of the tramline that was approved in 2016, and more office space has already been built than was assumed to be built in 25 years.
In growing cities, the concrete benefits have rallied both the general public and the business communities behind a united front in support of new tramline projects. The trams seem to be leading to a bright future, where the construction sector also has a major responsibility as a developer of urban areas.
"In the tramline alliance, we develop the project comprehensively and as one organisation. All of us – designers, contractors and clients – have a common goal to achieve the best possible outcome for the city and its people. We should definitely share the lessons learned and the good practices with Destia. By combining our skills, we will ultimately achieve better results wherever we build," says Ion.
"As a major player in the sector, we at Destia also have a responsibility to develop our operations and the whole industry so that we can meet the expectations placed on tramlines. We need to evolve in a direction in which we can deliver a better end product and better urban infrastructure services at a lower cost – in other words, better value for taxpayers' money. It's all about responsibility, because we have an important role to play in building the future of our society. And this is something that Destia cannot do alone, but in close cooperation with owners, clients, users and service provider partners. At best, even in joint responsibility – in an alliance," Keskinen sums up.
By combining our skills, we will ultimately achieve better results wherever we build