Two of Finland's largest concrete bridges in Laitaatsalmi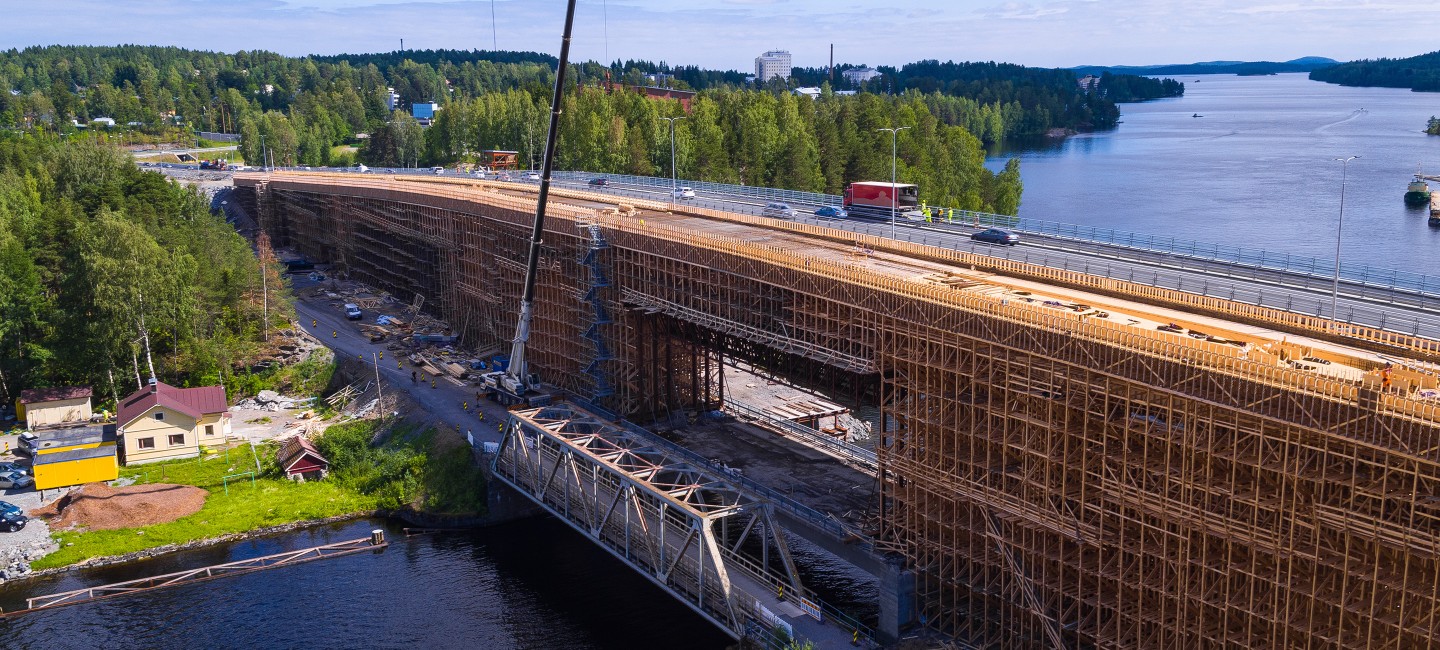 Previously, water traffic travelled along the Kyrönsalmi deep-water channel. Vehicle traffic on national road 14 was cut when the old bascule bridges were raised to make way for water traffic. As such, people wanted to move water traffic to the more easily navigable Laitaatsalmi.
We built two of Finland's largest concrete bridges on the shore of Lake Saimaa during a three-year contract, which enables even tall ships to travel beneath the bridges. Vehicle traffic safety also improved with the construction of the bridges and the development of national road 14.
In addition to the bridges, we also built noise barriers and a pedestrian and bicycle lane. We built lifts for pedestrian and bicycle traffic and stairs connected to the southern bridge, providing pedestrians with easy access to the bridge to admire the lake landscape.
The contract was challenging in terms of planning, implementation and working conditions, and thus required special expertise. The Laitaatsalmi construction contract was the largest wood and concrete construction site in Finland at the time of the work. Particularly exact preplanning was required for casting the decks of the superstructures. The southern bridge's deck measures 5,600 cubic metres and, at five days, it marks Finland's longest continuous bridge casting, as far as we know.
Our bridge designers designed all of the temporal supporting structures for the stages of bridge construction – the wooden formwork and framework, which were over 20 metres tall – as well as the supporting bridges at the crossing point of Saimaa's deep-water channel and steel trusses with a span of about 40 metres.
During the contract, work was done in close proximity to strong water currents and passing traffic. In addition, work at a height of 20 metres required especially careful fall protection planning. Despite the challenges, the contract was carried out smoothly, on schedule and without any accidents.
We also took environmental responsibility into account in the contract. We pulverised the old bridges and reused the material in the earthworks. We also made use of local production – for example, the 6,000 solid cubic metres of wood needed for shoring were produced in Eastern Finland. After the project, we turned all the wood we used into woodchips.